Signed Book Bundle (Against My Better Judgment, Fire & Ice)
Regular price

$34.99

Sale price

$29.99

Unit price

per
Get both books in the Mauzzy & Me mystery series (Against My Better Judgment and Fire & Ice) in this special discounted bundle.
Included in your order:
1 signed copy of Against My Better Judgment
1 signed copy of Fire & Ice, 1 bookmark, 2 art prints, 1 sticker to enhance the reading experience, 3 fun reader stickers, and 2 promotional postcard
Book 1 (Against My Better Judgment): When freshman year at the University of Alabama draws to a close, Sara Donovan finds herself grappling with the same old question—listen to her head or follow her heart. What she ends up doing is purchasing an Egyptian funeral mask, and after a mysterious phone call, she's certain there are antiquities smugglers operating in Tuscaloosa. Suddenly she learns things are never as they seem. Ever.
Book 2 (Fire & Ice): At work, college student Sara Donovan might be allowing her imagination to run wild. The main vault in the Carlton Museum holds the Fire and Ice Exhibit, a collection of rare gems, including the Star of Midnight, a 175-carat diamond. Although all the stones are accounted for, Sara suspects the Star of Midnight was stolen and replaced with a fake.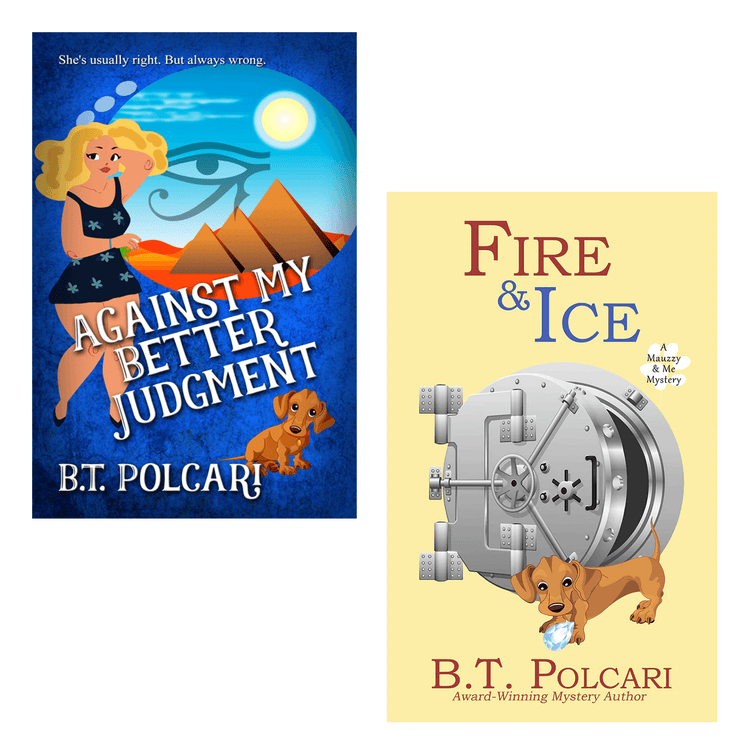 What the critics say
Polcari's debut novel and the first book in a series is a winner. The author is spot-on in creating believable dialogue and characters. The humor in the book is at times laugh-out-loud funny as protagonist Sara fumbles her way into uncovering the criminals.
Kat Kennedy, U.S. Review of Books ↗
A fun cozy mystery filled with chuckles throughout, college freshman Sara Donovan is a wannabe detective with her dog at her side. She finds herself in some comical situations, right in the middle of cramming for finals! This is a fast-paced story with an engaging mystery and various twists and turns. There are enough suspects to keep the reader guessing and sleuthing along with Sara. The addition of Egyptian artifacts is a unique angle. Snappy dialogue combines with just the right amount of romance to create an enjoyable, quick read.

Eric Hoffer Awards, Mystery/Crime Honorable Mention 2021 ↗
2022 Readers' Favorite 5 Stars

2022 Readers' Favorite Book Award Winner

2022 American Fiction Awards Finalist in Humor/Comedy/Satire

U.S. Review of Books Recommended
2021 Eric Hoffer Honorable Mention in Mystery/Crime Category

2021 Eric Hoffer Grand Prize Finalist

2021 Eric Hoffer First Horizon Award Finalist

2020 Heart Awards – Young Adult Romance Finalist
What readers like you say
I loved Sara's snark and wit. She was quite fun to read about. She gets herself into a bit of a mess and it was an entertaining one, to say the least. She has such a great voice to lead the story.

I loved the backdrop and setting, I think the author does a great job of highlighting those elements.

Danger and mystery ensue throughout and I think it was a wonderful case and kept me guessing.
⭐⭐⭐⭐⭐
- C. Gonzales, The Indie Express

When I picked up this book, I was looking for something that was laugh-out-loud fun, and B.T. Polcari delivered. The characters are hilarious.

I had an amazing time getting to know Sara and the others we meet along the way.

The setting is so lively and interesting. The plot twists were an adventure that I never wanted to end.

In my head these characters are still living on and causing mischief.

From the very first page, this book had me hooked and causing mischief.

⭐⭐⭐⭐⭐
- R.K. Emery, Texas Book Nook

This was so much fun! Such a great cozy mystery, filled with snark, sarcasm and quick wit. The mystery was great and kept me guessing until the very end. I look forward to reading future books in this series!

Sara is a college student whose life fulfills the 'if it can go wrong, it will' mantra every chance it gets. She handles these situations with a great sense of humor and acceptance. As a klutz, I can relate to some of the catastrophes she finds herself in.
⭐⭐⭐⭐
- Nikki R, NetGalley